Plant-Based BBQ
May 24, 2021
Looking to shake things up this BBQ season? Follow this plant-based guide for a delicious, earth-friendly BBQ menu.
All my plant-based buddies out there do not look forward to the grilling season. Although it's always fun to go to a Memorial Day BBQ hang or a July 4th rooftop bash, when all there is to eat is white bread, burgers, hot dogs, potato chips, and beer – it's kind of disappointing. But BBQs don't have to mean meat meat meat, they can be just as yummy without a meat and poultry focus, albeit slightly non-traditional. Here are some of my favorite swap outs and additions to make your BBQ a feast of healthy, plant-based goodness: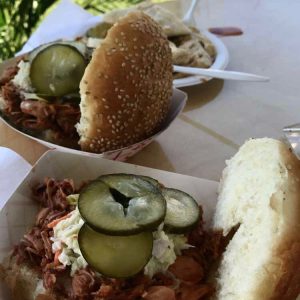 Shish kebabs

were made for plant-based eaters! Skewer all your favorite veggies – peppers, onions, zucchini, tomatoes, and mushrooms – and if you want something meaty on it, try some of the

vegan sausages from Beyond

meat or even

chunks of seitan.

Brush some BBQ sauce on your skewer and throw it on the grill. Seitan gets a bad rap because of it's high gluten content, but it's a great source of plant-based protein, it's low in fat, and can be enjoyed every once in a while.

No cookout should go without a

salad

. I got you! I pride myself on being a salad wizard. Maybe that's predictable for a Dietitian.

Check out my recipes page

for

a spring salad that is light and filling. It's always a good idea to start a meal with a small plate of vegetables full of fiber, to keep you feeling full and prevent you from overeating.

If you must have

burgers

at a BBQ, I can understand – luckily we have substitutes now that work just as well, if not better.

Beyond meat

and

Impossible meat

both offer plant-based alternatives that can easily replace your traditional ground beef. Or shop at your local farmer's market for sustainably sourced options of meat, chicken, and fish. It's important to know where the animal products are coming from and how they were raised. Although this might be more pricey, the earth and your health will thank you later!

Once you have your burger ready, you need to

top it with all the fixings

. Pickles of course, maybe some sliced avocado, and for a slaw try a

cabbage slaw with a vinegar-based dressing

for a crunchy texture but slightly more heart-healthy than the traditional mayo-drenched slaws.

Pass on the deep fried potatoes and soggy potato salads this year, and go for a simple

baked potato "fry"

. Slice up your potatoes or sweet potatoes into strips, toss them in some olive oil, salt & pepper, and cook them at 425*F for about 35 minutes. You'll get a delicious, crispy fry without all the soaked up grease.

Don't skip dessert!

End your big meal with something sweet and refreshing to signal to your body you are done eating. Slice up a watermelon or make a fruit salad bowl for dessert. If you are looking to get creative with it try a

watermelon, feta, and mint salad

or a

watermelon "pizza" with yogurt and topped with other fruits.

Watermelon is loaded with vitamin A, vitamin C, potassium – all nutrients we want for healthy eyes, a strong immune system, and controlled blood pressure. And as a water-based fruit, it's a delicious way to stay hydrated in the summer sun.
Use these plant-based tips to throw a unique, earth-friendly, BBQ this summer!