Planning for Summer Fun
July 19, 2021
As we slowly, cautiously reemerge now that many people are vaccinated and socializing more, we are excited to have a season that is known for hang outs and traveling. Follow this guide for how to navigate summer events and stay on track with healthy eating!
Summertime means socializing, gathering with friends and family, fun in the sun, parties, and a whole lot of food to go with it. Food that you didn't prepare, menus you didn't make, and choices that are out of your control. I've been eating plant-based for over a decade and I sympathize with those who are trying to be conscious eaters and have to navigate a social scene.
It's not easy to leave your comfort zone, or your home, where you know exactly what to expect in terms of food. You have made all the decisions from what to buy, how to prepare it, and when to eat it. Although people have learned how to accommodate plant-based eaters at events, I still experience times where there is simply nothing I am going to eat. And I don't consider this "picky", I think of this as being an informed eater and wanting to make healthy choices. 
For those who are worried about how to get through this summer and not divert too far away from your eating plan at the countless events, here are some tips and tricks: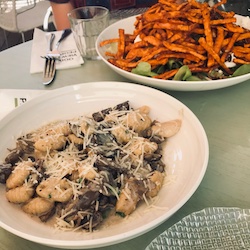 Eat ahead of time.

Don't go to the event hungry. If you are headed to a party or dinner at a friend's place, don't rely too heavily on the meal to be your main meal. Be willing to arrive at the event with the plan to eat so as not to seem rude, and having eaten most of your meal beforehand.

Offer to bring a dish.

If you are attending a party or meal that you can offer to bring something. This is a great way to ensure there is at least one dish you can eat at the meal that you made. I often offer to make the salad or the grain, this way I can eat something at the meal and finish eating later at home.

Check the menu.

If you are going to a restaurant, never arrive without having seen the menu beforehand. Decide what you are going to eat before you get there, and be willing to speak up and ask the kitchen to make adjustments to your order. Whether that means adding, swapping out, or omitting something from the plate. Game plan!

Don't go for the food.

Think of summer events as places to socialize, not as places to eat. Try not to get caught up in the excitement of all the food that you are going to have access to. Instead, think of events as a place to catch up with friends and/or family, have fun, and not as a place for your next meal.

When you are done, be done.

If you are able to eat at the event, great! When you are done, remove your plate. Avoid continuing to snack on the food that is out, whether on buffet tables or on the main table. It is easy to snack 'n talk. Avoid this by removing your plate, and filling your glass with water. There is nothing worse than overeating in the summertime, heat and bloat are not good friends.
Don't stress all your summer plans, you can do it! Take it one event at a time and don't punish yourself for enjoying it. Be willing to eat the foods you like, in moderation and in your control.