Teaching Your Class Nutrition and Health
August 16, 2021
Let's get educated! Nutrition education is one of those terms that gets thrown around a lot. But what does it really mean? And how is it used?
The new school year is approaching and there is a lot of talk about how this year is going to look since the pandemic is still very much in our lives. And I recently was discussing how I worry about the "little" things that get sacrificed due to the pandemic, for kids (but also adults), because there are seemingly bigger problems to deal with. This includes healthy meals served at schools and in workplaces, and time for physical activity. But if we have learned anything from this year, it is that these are so important for preventative care. 
For my graduate degree I studied Nutrition Education at Teachers College Columbia University. I decided to major in this for my Masters, because I always saw dietetics as preventative medicine and I wanted to be part of the movement that was speaking to people before there was a problem as well as during. I interned with the NYC Department of Health for their Eat Well Play Hard program in my senior year of college, doing nutrition education in a public school in the Bronx for both students and parents. This experience was the catalyst for my career path (more to come on my experience as a Nutrition Education Program Manager!). I learned how to effectively teach nutrition and foster behavior change that will impact the health and lives of students. 
Dining with Nature by Aderet is a 3-pronged business. We counsel one-on-one via telehealth, working with individuals to reach their health goals. We consult with food brands and businesses that are committed to sustainable practices. And lastly we educate groups, in schools, workplace settings, community organizations, etc. on the why and how to live a healthy, sustainable lifestyle.
What does Nutrition Education offer?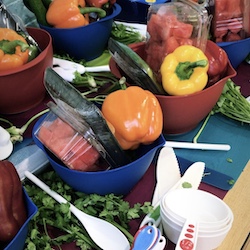 Why.

We start with the "Why". Why should we eat fruits and vegetables? Why should we eat less processed foods? Why should we stay active? Why should we eat whole grains? Understanding why we should choose healthy behaviors is a motivator for a healthy lifestyle. Many of the blogs and social media posts I share typically start with a reason WHY, the motivator, and ends with actionable items, the HOW. As people we like to know the reason for doing what we do. We want to understand our actions. When we try to make a behavior change without understanding the reasoning behind it we are less likely to stick with it because we lack the knowledge of the benefits or the harm in not making the change. The WHY in a nutrition education curriculum will depend on the health behavior goal. For instance, if the group wants to increase their fruit and vegetable intake. The why portion of the class will include an activity, lecture, and/or discussion of why we should be eating more fruits and vegetables. What are the benefits, what is the harm in not, and why should we be eating it in the amounts and ways suggested. 

How.

Then we move into the "How". How to eat fruits and vegetables. How to reduce processed food intake. How to stay active. How to eat whole grains. We may read articles or watch films that motivate us to make a behavior change, but then leave us with little information on how to actually implement these changes into our lives. As Dietitians, we are trained on how to guide people in implementing changes into their lives that are practical for them, otherwise known as individualized care. The how portion of the class includes an activity that is something that can be repeated on your own, such as a cooking class or a prep exercise, and ends with a discussion of what barriers you may see to adding this to your lifestyle and what are ways to overcome this. Nutrition is trial and error. Meaning what works for one person may not work for you and with some patience to try different methods of action, you may be able to make subtle changes to your lifestyle that lead to healthier and happier you.

What Nutrition Education does Dining with Nature offer?

DWN uses this framework to educate your group. We work with you to understand the audience and what the needs are. We then create a curriculum of up to 6 lessons, for a group of max 30 people, that is tailored for your groups' needs, specific goals that relate to them. This curriculum can be made for an internal employee or leader to implement on their own, or can be made for me to lead the classes. Dining with Nature Nutrition Education emphasizes the message of environmental consciousness in our food and activity choices. Our curriculums include a component of creating a connection with our food, our bodies, and our surroundings to facilitate a nature-focused approach to health.
To book your complimentary consultation and see if your group is a good fit for DWN Nutrition Education, head to our Services page here.